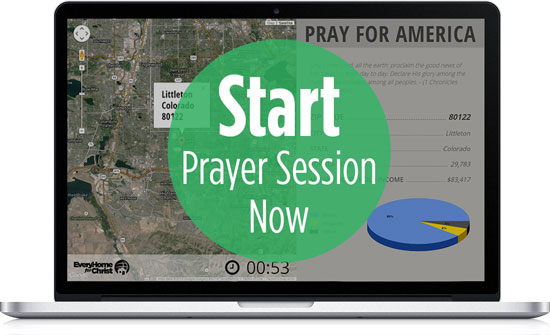 "If my people who are called by my name will humble themselves and pray and seek my face and turn from their wicked ways, I will hear from heaven and will forgive their sins and restore their land" (2 Chronicles 7:14, NLT).
Nothing moves the hand of God like fervent prayer. Since 1946, Every Home for Christ has had one mission—to reach every home on earth with the Gospel. Through our method of home-to-home evangelism in more than 130 nations, millions have responded to the message of salvation, rejecting ancestral religions and putting their faith in Christ alone.
We praise God that faraway nations are being impacted by the message of the cross, but what about our own nation? We want to call America back to Christ, and it begins with prayer.
Every Home for Christ is calling the Body of Christ to its knees on behalf of America. Will you join us? We've created a tool to help you effectively intercede for America. With one click, you can access information on a specific zip code area. Maps, demographics and a Scripture will guide you in praying for our nation. A new zip code appears every minute, allowing you to quickly impact multiple areas of America.
We're strategically planning to take our country back! Prayer is the beginning. Start your prayer session today. The movement has begun.
How to Use "Pray for America" in Your Personal Prayer Time
1. Observe the highlighted zip code and its corresponding information to intercede for that area. Every 60 seconds a new zip code is displayed, providing a map of the area, as well as other useful demographic information.
2. Use the Scripture passages provided (or others you might recall) to guide your time of intercession over each zip code.
3. Strategically pray for the following over each zip code area:
Open Hands (Proverbs 3:27)
Open Doors (Colossians 4:2-3)
Open Minds (Acts 26:17)
Open Hearts (2 Corinthians 4:6)
Open Heavens (Isaiah 45:8)